Short-Term Business Loan Singapore
Business loans can be categorized into two main classifications, commonly known as Short-Term Business Loan and Long-Term Business Loan.
These days, we are seeing more and more startups emerging in the market, but not everyone has the luxury of having a family member or an investor to fund them whenever they need to order new inventory or procure industrial equipments that are costly.
You can be thrifty on some things but there are some mandatory equipments or "must-have" that is needed.
This is where a Small Business Loan would be ideal for you.
We are a legal and licensed mondy lender in Singapore, recognised by Ministry of Law (Registry of Moneylenders)
This is one common challenge that many business owners face today.
Promising startups that are lucky not only get to survive this ordeal, but it keeps their business growing at a faster and better rate, while some who are not fortunate enough will not get the luxury to take their business to the next level and wind up end of the day.
We do not want to see aspiring people have their passion or dreams shattered, that is why Business Loan designed for Startup has been implemented and devised to mainly focus and financially help companies and businesses to tide over this difficult time.
Working Capital Loan Singapore are suitable for business owners that needs financial funding on a short-term basis, for instance to bridge across till invoices are being cleared, or payments are being made from clients.
Startups that are doing well should not disappoint their customers with terms such as "sold out" or "out of stock" hence, cash flow is crucial to always keep the business going. Likewise, for long-term business loans, those that are looking to expand their businesses by either opening another office or additional outlets can opt for a longer repayment option so as to not affect their businesses.
The time frame can range anywhere from above 1 year of repayment with interest. Ultimately, SME Loans are usually taken up to keep the company moving. If supply does not meet demand, customers would be unhappy and that would create a negative impression to them.
Here at Credit Excel, with the relevant documents provided, you will be able to get your loan in no time.
With minimum waiting time, business owners need not go through the long, arduous process of countless approvals that is time consuming from local banks. Credit Excel wants to bridge and tighten the gap, making the procedure as seamless as possible so that the business will be undisrupted and you can continue your regular operation day to day.
What to expect when you come to our office:
Credit Excel has the reputation in the industry for being one of the most customer-oriented moneylender, we are here to lend a listening ear to you, offer advices that may be useful to you.
You may approach any of our friendly loan specialist to find out more about Business Loans, the terms and conditions or any loan related questions. We would be happy to answer all the questions that you have for us.
When you are cleared of all doubts, only then will we be proposing a loan package that is suitable for you.
Mandatory Requirements & Eligibility:
Must be a Singapore-Registered Business
Photocopies front & back of ALL Shareholder/Partners/Sole Proprietors' NRIC/Passports
Your Company's Financial statement from the previous financial year
All Partner's Income Tax Notice of Assessment
Company's bank account statement for at least the recent 6 months before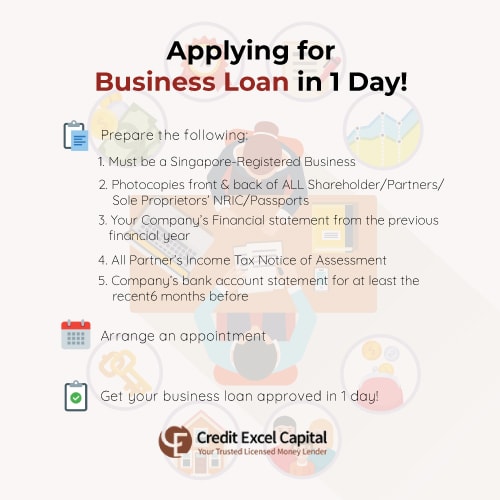 Other Loan Services Offered
Fast Cash Loan Enquiry
Only Singaporean / PR is applicable
*All fields are required